Dairy Products
---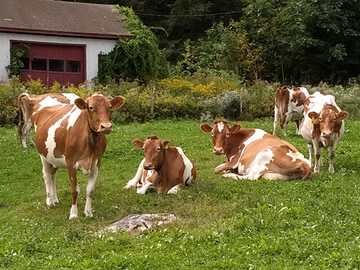 Stillbrook Acres is a proud producer of 100% unpasteurized A2/A2 golden guernsey milk, yogurts and cheeses. Our cows are grass fed, antibiotic and hormone free.
What Is A2A2 Milk?
Real milk from real cows. The Guernsey breed is The Source for the naturally occurring A2 gene and A2A2 milk protein!
A 2/ A 2 Milk Explained
The two most common types of beta casein proteins found in milk are A1 and A2 Breeds of cows like the Guernsey, can be bred to produce milk without the A1 gene.
Why Is This Important?
The two proteins are digested differently, and some stomachs have a sensitivity to the A1 protein, causing problems with digestion Many people who think they are reacting to the lactose in milk, are actually reacting to the A1 protein! Simply switching to A2A2 milk can reintroduce you back into the world of real dairy products.
Nutrition Facts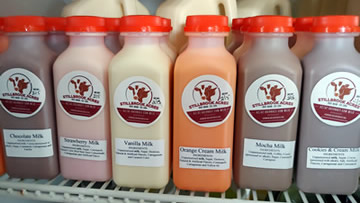 | | |
| --- | --- |
| Omega 3 | 3X more than other milk |
| Beta Cartene | evidenced by its golden color |
| Protein | contains 12% MORE and helps BURN fat and BUILD muscle |
| Vitamin D | contains 33% MORE |
| Vitamin C | contains 25% MORE |
| Calcium | contains 15% MORE |
| Buuterfat | average of 4.65% |
Is A2 Always Best?
There is a company which markets its milk under the brand "A2 Milk". While this sounds great, many of their cows are not grass based. Worse than this, the milk is typically ultra- pasteurized, greatly altering the proteins and destroying the natural enzymes in milk, making it more difficult to digest and rendering it an unnatural product.
Our Product List
Milk
White Milk
Flavored Milks

Vanilla
Cookies and Cream
Chocolate

Orange Cream
Mocha
Strawberry
Yogurts
Plain
Mango
Pineapple
Lemon Zest
Key lime
Strawberry
Coconut
Blueberry
Cherry
Raspberry
Blackberry
Peach
Vanilla
Fromage Blanc Cheese
Garlic and Dill
Black Pepper
Herb De Provence
Other Cheeses
Feta
Halloumi
Where To Buy
At our Stillbrook Acres Farm in Gray, ME
Lois' Natural Marketplace in Scarborough, ME and Portland, ME
Village Store in New Gloucester, ME
Portland Food Co-Op in Portland, ME
Bow Street Market in Freeport, ME
Farmers Market in South Portland, ME > Summer and Winter
Farmers Market in Cumberland, ME > May - October
Farmers Market in Yarmouth, ME > June - September
---
To Contact Us:

HEATHER PHINNEY
ERNEST ROGERS
309 Mayall Road
Gray, ME 04039
207-838-4407
E-mail: [email protected]